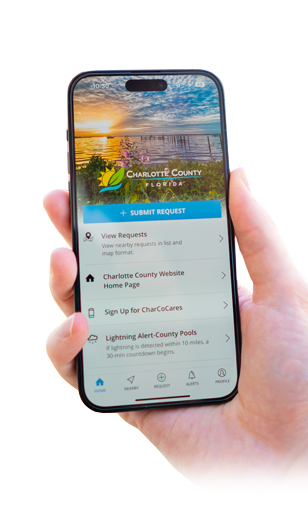 Connect with Charlotte County—Report Issues, Track Progress, and Find County Services using the
Charlotte County, FL App
Report Issues
Ask Questions
Get Information
...everywhere you go using the Charlotte County, FL app on your smartphone.
The app makes it easy to report an issue such as a damaged street sign, illegal dumping, or just ask a question: Submit a Request. Choose the category and the app helps you include your GPS location, a photo, and a description.
Start now by searching your device's app store for Charlotte County, FL and download the free app:
Service Requests are also available on this website! Click Contact in the top-right corner of any page.
Connect with County Services
Check the status of lightning alerts at county pools
Watch CC-TV live
Find trail guides for environmental parks
Access our Visitor and Convention Bureau for fun things to do in Charlotte County
Submitting a Service Request in the App
Our app is driven by PublicStuff, an Accela company - you will be asked to create a free account at PublicStuff, with a user name, email and password. Your account enables you to track the status of your requests and follow other requests. You will also receive updates on your request by email at the address you used in your account.
You do not have to create an account or log in--you will be able to submit requests anonymously but not receive updates on the status of your request, nor will we be able to contact you if more information is needed. Note: most potential code violations cannot be submitted anonymously.
Creating an account ensures you have access to all the features of the Charlotte County, FL app.