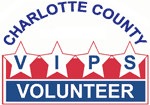 There are many opportunities for volunteers in Charlotte County.​
The mission of the Charlotte County Volunteer Service Program, which is known as "Volunteers in Public Service" (VIPS) is to encourage and support volunteerism to assist County government in providing services and programs and to help facilitate community wellbeing through employee volunteer support.
Volunteers in Public Service Policy
Volunteers in Public Service Manual
For additional volunteer opportunities in County Government or in your community, visit the United Way of Charlotte County Volunteer Opportunities page.
Volunteer Resources
Intern Resources